Service CU Impact Foundation Announces Robert Irvine Culinary Impact Scholarship
---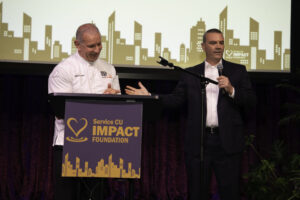 PORTSMOUTH, NH (June 30, 2023) – The Service CU Impact Foundation, a 501(c)3 non-profit charity arm of Service Credit Union, is excited to announce a new scholarship dedicated to students studying the culinary arts.
Beginning in February 2024, the Impact Foundation will begin accepting applications for a $5,000 scholarship to an undergraduate or graduate student pursuing an education in the culinary arts. The scholarship is named the Robert Irvine Culinary Impact Scholarship in honor of celebrity chef Robert Irvine, founder of the Robert Irvine Foundation, which is dedicated to giving back to military, veterans and first responders. The Robert Irvine Foundation is a longtime partner of the Service Credit Union Impact Foundation, having worked together since the Foundation's inaugural signature event, the Golf Charity Classic. 
The Impact Foundation launched its current scholarship program in 2021, and this new scholarship will create an additional opportunity to provide educational funding, specifically for culinary studies. 
"We wanted to find a lasting way to show our gratitude for everything the Robert Irvine Foundation has done to support us, to support veterans and the military. As education is a huge focus for us, we wanted to expand what we're doing in that world and create a separate category for culinary studies, in honor of Robert and his wonderful team at RIF," said David Araujo, President-Chair of the Service CU Impact Foundation and President-CEO of Service Credit Union.
The Robert Irvine Culinary Scholarship program is open to high school seniors planning to attend, or students already attending a two- or four-year university accredited by the U.S. Department of Education, including adult continuing learners. To qualify, applicants must be members of or a dependent of a member of Service Credit Union
For more information on the Foundation, visit https://servicecuimpactfoundation.org/.
About Service CU Impact Foundation
The Service CU Impact Foundation promotes community development by funding initiatives that deliver solutions and solve problems facing our membership and communities in which we serve. The foundation funds initiatives beyond what Service Credit Union supports, broadening the community reach and having a larger impact. We conduct charitable activities and partner with service providers who align with our philanthropic areas of focus: education, human services, and emergency care for veterans and the military. To learn more about the Service Credit Union Impact Foundation, visit www.servicecuimpactfoundation.org.